Love is why we have Fellowship!
Upcoming Events at Advent
Social Security Workshop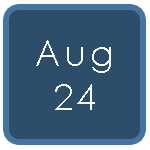 "Money Left on the Table" with Jim Caulder
Saturday, August 24th
11:30am Embassy Suites
1100 SE 17th Street, Fl. Lauderdale
Lunch will be served.
For additional information, contact church office.
Women's Retreat
THE GARDEN presents TASTE and SEE, Women's Retreat 2019. This year the retreat will be at the Hutchinson Island Marriott Beach Resort in Stuart.
September 20-22, 2019
Men's Retreat
October 11th-13th – Friday-Sunday
Marathon Key
For more information, contact Gary "GJ" Jensen at
Gary_Jensen@baxter.com
The Patrick Session
A Musical Celebration of the life of St. Patrick.
Written by and performed by Pastor Andy.
Sunday, September 1st at 6:00pm in the Fellowship Hall
Musical, Singing, Irish Food Donation $10 at the door