In Loving Memory of Pastor Ron Dingle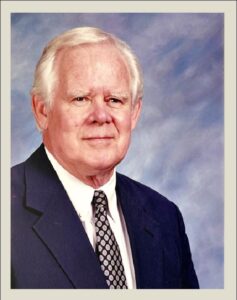 Reverend Dr. Ronald James Dingle, 86 of Boca Raton, FL, passed away peacefully surrounded by his loved ones on Saturday, August 19 at Advent Square in Boca Raton, FL.
Ron is survived by his loving wife of 61 years, Marguerite (Mickey) Dingle, and their six children, Dr. Susan (Andrew) Hagen, Scott (Deborah) Dingle, Shari (Chip) Costantini, Steven (Amy) Dingle, Dr. Sean Dingle, and Sander (Jacquelyn) Dingle.
They have 18 grandchildren: Adam (Amanda) Hagen, Leah (Brian) McSwain, Brooke (Blake) May, Colin Dingle, Katherine (Spencer) Soto, Cody (Deana) Dingle, Emelia Sandifer, Hannah Sandifer, Sophia Sandifer, Kyle (Maria) Dingle, Ryan Dingle, Kelsey Dingle, Sean Dingle, Jack Dingle, Lexi Dingle, Finn Dingle, Luke Dingle and Lauren Dingle.
They have 2 great-grandchildren, Mason Hagen and Rory McSwain.
Born on March 25, 1937, to Ernest and Sarah Dingle in Detroit, Michigan, Ron was the youngest of five children. He attended Pershing High School and went on to seminary at Capital University in Columbus, Ohio, where he earned his Master's Degree in Theology. In 1991, he earned his doctorate from the South Florida Center for Theological Studies in Miami.
When Rev. Dingle graduated from seminary, he was called to Good Shepherd Lutheran Church in Milwaukee, Wisconsin, where he lived with his wife Mickey from 1962-1967.
In October of 1967, he and his young family moved to Boca Raton, Florida, where he became pastor at Advent Lutheran Church. Ron set out to create a church built on community and faith, and most importantly, sharing the love of Christ. Ron was known for his passionate sermons and his determination to build God's kingdom.
Working tirelessly to fill needs in the community, Ron was instrumental in creating the first private Kindergarten in Florida, as well as opening the Early Childhood School, and Elementary Middle School at Advent. He also started Advent Square, creating a comfortable place for independent seniors to live and thrive.
Ron was very involved with Habitat for Humanity, as well as the City Clean Up Fix Up Campaign. He also founded Gold Coast Via De Christo, a retreat for Christians. He was involved with Alzheimer's Daycare, implementing a system using various church facilities, where over 1000 churches still host today. He was Chairman of the Boca Raton Housing Board, Chairman of the Social Action Committee for Boca Raton Association of Churches, Treasurer of the Boca Raton Society for the Disabled Children, and Director of United Fund and Kiwanis Club.
Ron was very dedicated to serving with the charity, Food for the Poor. When he retired as pastor from Advent, he traveled around the country, preaching in support of Food for the Poor, bringing awareness and raising funds for impoverished communities throughout the Caribbean.
Ron made over 30 trips to the island of Haiti, where he broke ground on the Village of Hope, a school for vulnerable children, which is still providing a safe environment for many to learn today.
From 2014-2017, Ron served as pastor at Ascension Lutheran Church in Boynton Beach, FL, where he ministered to a mostly elderly congregation. He facilitated upgrades to the fellowship hall and other parts of the church, revitalizing their church community.
Ron officially retired from pastoral ministry at the age of 80. Ron and Mickey spent their time traveling and gathering for good times with their abundant family and friends.
Ron's passion for the Lord was made evident by the way he cared for his community and his family. He will be forever remembered for his immense contributions to Advent Lutheran Church and the people of Boca Raton.
There will be a memorial service honoring Reverend Dr. Ronald Dingle on Saturday, September 9, at 2 p.m. at Advent Lutheran Church, 300 East Yamato Rd., Boca Raton, FL 33431. It was Ron's wish to donate his earthly body to scientific study at the University of Miami. Pastor Dave Dangerfield will give the eulogy.
In lieu of flowers, the family requests donations to be made to Advent Lutheran Church Building Fund, where Pastor Dingle's final long-range expansion project is planned to begin.
Donations can be mailed to Advent Lutheran Church, 300 East Yamato Rd., Boca Raton, FL 33431 or CLICK HERE
"We love, because he first loved us." 1 John 4:19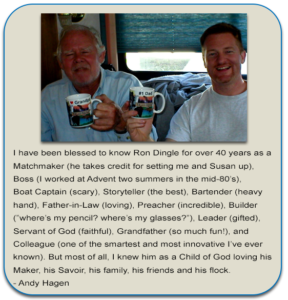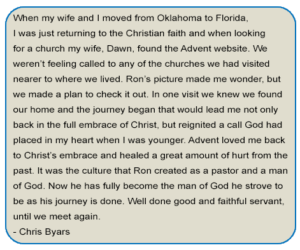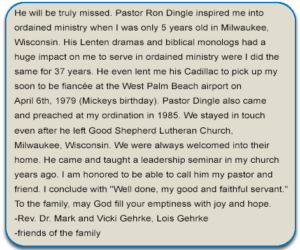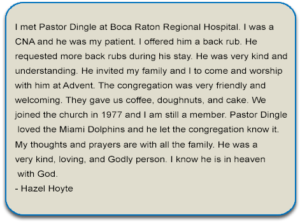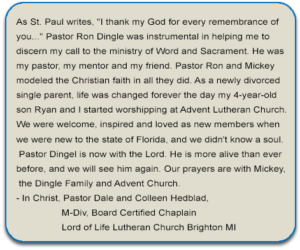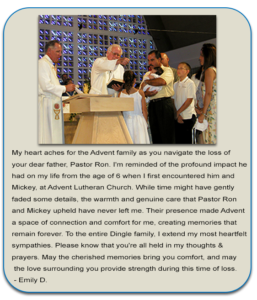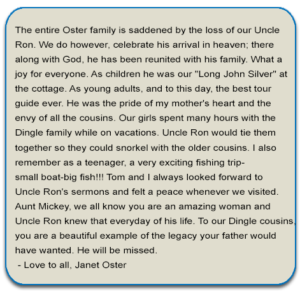 Church Picnic – submitted by Jon Patsy